The Warfare Center collaborated with the Daviess County Economic Development Foundation, the Daviess County Chamber of Commerce, WorkOne South Central and Indiana's Procurement Technical Assistance Center (PTAC) to host the second in a series of Federal Networking and Employment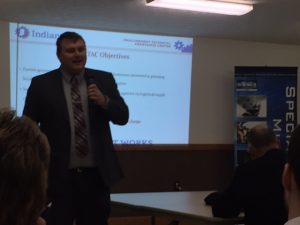 Events in Washington Indiana last week.
Matt Burkett, NSWC Crane's Deputy for Small Business, along with Kevin Easton from PTAC provided an overview of federal procurement opportunities along with steps to pursue federal business for local business leaders.  John Dement from Crane discussed our Technology Transfer program and highlighted how the Warfare Center's assets can be accessed by the business sector.
The day concluded with WorkOne's Federal Employment Workshop where participants were guided through the federal employment process including the USAJobs.gov website.  Tips for writing resumes for federal positions were included as well.
The workshops were well received and requests came in for additional workshops within the region.  As a result, more will be scheduled over the coming months.  Thanks to our partners for making this session a success!